ElectriMulti75-G

Force Modulation AFM Probe with Platinum Overall Coating
Order
Request an official quote (RFQ)
Order Code / Price*
Quantity
Multi75E-G-10 (10 per set)
1 x 240.00 USD = 240.00
USD
Multi75E-G-50 (50 per set)
1 x 1 000.00 USD = 1 000.00
USD
* Does not include VAT or customs duties.
AFM Probe Specifications:
AFM Tip
Half Cone Angle
20°-25° along cantilever axis, 25°-30° from side, 10° at the apex
AFM Cantilever
* typical range
Coating
Electrically Conductive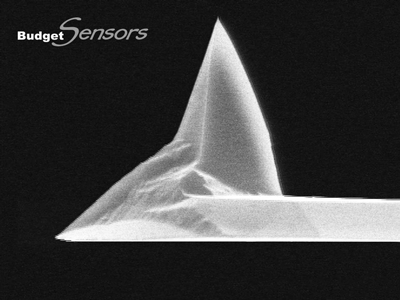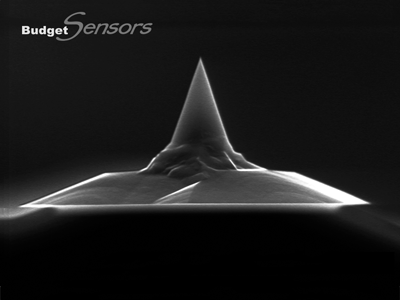 Alignment Grooves
This product features alignment grooves on the back side of the holder chip.
Additional Info
Monolithic silicon AFM probe for force modulation and pulsed force mode (PFM), and electric modes such as:
scanning capacitance microscopy (SCM)
electrostatic force microscopy (EFM)
Kelvin probe force microscopy (KFM)
scanning probe lithography
The rotated tip allows for more symmetric representation of high sample features. The consistent tip radius ensures good resolution and reproducibility.
The AFM holder chip fits most commercial AFM systems as it is industry standard size. It is compatible with:
Bruker / Veeco / Digital Instruments
Keysight / Agilent / Molecular Imaging
Asylum Research
Park Systems
JEOL
JPK
etc.
Consistent high quality at a lower price!